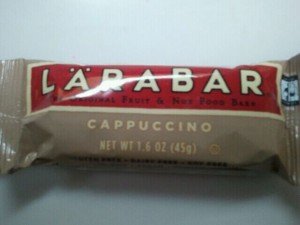 Something new! Don't you all love new products!? (:
I got a very nice card and some free Cappuccino LARABars from the company a week or so ago (happy holidays to me!) I opened up the box and saw four bars of a flavor I never heard of or saw before- Cappuccino. This might be interesting, I thought. I used to hate coffee/ anything coffee related, but now I am a coffee convert. Thanks all nighters and piles upon piles of work that need to be done and the caffeine boost needed to do it. *sigh*
No, but really. Thanks to the endless work, I now love coffee. And coffee Keurigs are world's greatest invention. Thank you to the inventor- you are are genius.
ANYWAY, the bars are gluten free, vegan, dairy and soy free, and made with minimal ingredients which I love. I opened up the bar and instantly smelled the coffee aroma. Observing the bar, it looked like a standard LARABar, but I also noticed rather large pieces of almonds.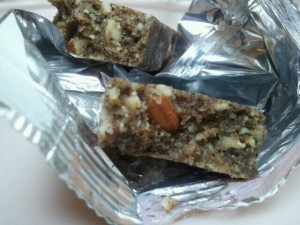 I took a bite. The familiar date/fruity taste a LARABar often has was there, but not super prominent. I could taste the coffee flavor, but it wasn't super strong. It had a bit of an awkward bite at the end, like a spice of some sort. I checked the ingredients and didn't see any spices, so I'm going to say the coffee added that bit of a bite at the end.
The bar was soft, dense and chewy but had the slightly crunchier parts from the almond pieces. It was really satisfying as a snack and curbed my hunger well (almond always take away my hunger pains!). The bar was sweet but not too sweet, and overall pretty good.
As a whole, I'd give this one a 3.5 star rating. I don't think it's my favorite, but it was pretty good. My favorites will always be this one and the cookie dough bar!
Which LARABar is your favorite?! (: