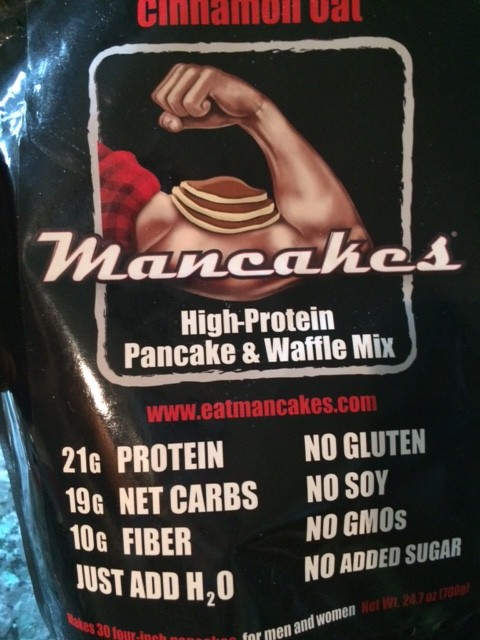 I bought this mix after seeing it on one of my idol's pages…Miss Dana Linn Bailey. I was in search of something low sugar but breakfast-y, that was also high in protein. Let's be honest, I can only eat egg whites so many mornings, or plain greek yogurt with protein powder. So I bought this flavor, Cinnamon Oat, and hoped for the best.
I looked at the ingredients and saw the sugar was on the low side, so I added some extras for flavor. I used almond milk, two Splenda, a pinch of salt, and some almond extract. I  cooked it in the pan with a little bit of light butter and Pam (as a precaution!)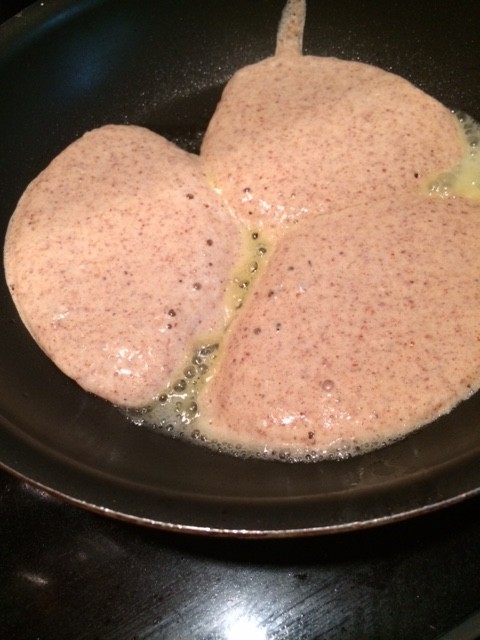 And…. the final product. Drizzled with sugar free syrup.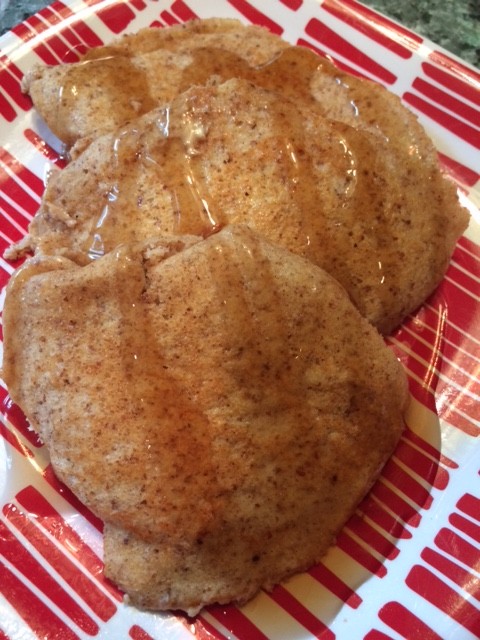 The pancakes were super fluffy and moist. They didn't have much flavor by themselves so I am happy that I added the Splenda and almond extract. They are a little bland but I think that's good, because that means they are versatile and you can eat them however you want. You can add your own toppings. I made these before for the boyfriend (who is also into bodybuilding), with banana slices and some cinnamon and sugar. He seemed to enjoy them.The consistency is really good! They're super fluffy, and they are just like pancakes you get from the diner consistency wise. All I needed was some sugar free syrup on top and I was super happy knowing I had a high fiber protein source, with low sugar.
Net carbs: YES these apply here! I gave insulin for roughly 15-20 carbs (since I had half the pancakes I made), and went super low post breakfast. So, now I know, SLOW digesting. Some net carb products do not "work", and still spike blood sugars. Not the case here.
These I think are good year round, or if you are competing I think would be a perfect cheat meal a cheat meal without really cheating…. because there's 2 grams of sugar, 10 g of fiber, ~30 carbs…it is a little high in fat at 9g, but also 21 g of protein for 280 cal.  Not including your toppings or "liquid" you make it in. It also makes 4 fluffy and rather large pancakes.
With all that being said, these get a solid
4 stars
. I would give a 4 1/2, but these are a little bland, BUT I personally like that they are a bit bland bc they are versatile, and I can choose my toppings. Overall, very pleased. You can check  them out 
here.
 I would be interested in trying the buttermilk variety as well.