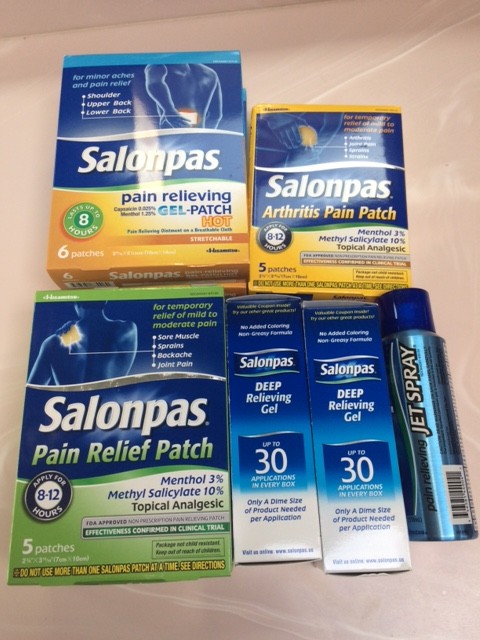 I got this carepackage from Salonpas! They sent me an array of pain relief in the form of patches, a spray and a gel. I was excited to try these out! I do a lot of heavy lifting at the gym, and sometimes my muscles ache (think: traps and legs!) or my lower back is stiff post deadlifts, so I thought these would certainly help. All together this bundle is valued at $100.
Deep Relieving Gel- This is clear and jelly-like…looks like a clear jelly fish in my hand! It absorbs quickly into my skin, and leaves no residue behind which is a plus. I put a dime size amount on upper back and neck.I wish I used gloves since the smell of menthol stayed on my hands for a while even post washing! But now I know for next time.
It first started with a cooling sensation, then warmed up. It felt pretty good…but needed more than it said I think. Next time around I used a little more than a dime-sized drop and felt better. My neck and trap area seemed to loosen up a bit! 4 stars
Pain Relief Patch-
Smaller, beige in color, and thin. It was Easy to apply, and stays on easy.I applied to my lower back, and it starts with cooling sensation, and then that was it. Generally ineffective…I didn't feel anything after that initial mild cooling sensation, and my back feels the same. As a plus, it didn't fall off. Maybe it needs to be used on smaller areas? However I would argue that if it isn't meant for the lower back, they can't advertise it as use for lower back. 1 star
Pain Relieving Gel Patch-HOT-
I used these post heavy deadlift day when I woke up to a sore back. The patches were flimsy but thick, and flexible. It was relatively easy to apply, even on my own lower back.
It started off with a cooling sensation, and left with heat. It didn't' seem to penetrate deeply at all, more like surface, but still helped loosen up my lower back/make it feel a little better.
The patches didn't stay on easily. I put one on and ate breakfast, and just shifting in my chair caused the patch to start to peel off. I reapplied it a few times until I finally took it off out of frustration. Luckily, the heating sensation continued for quite some time post patch removal. However, annoying! 2 ½ stars
Pain Relieving Jet Spray-  Alrighty, let's be blunt here…this one stinks. Literally, and figuratively. The smell is awful…like a foot cream or something mixed with menthol. It comes on nice and cool, which feels nice, but it literally does NOTHING! I sprayed it on my hamstrings and at first felt nothing. I tried another day and put more on, and again, nothing. Ineffective. Feels good being sprayed on, but did not work for me.  1/2 star
Arthritis Pain patch- This one was applied to the knee (don't we all have arthritis in our knees?!) It was a comfortable patch, you don't feel it while it's on, and stays on easy. It was relatively thin. There was a cooling sensation that seemed to come and go during the duration of wearing the patch, but nothing spectacular.  2 stars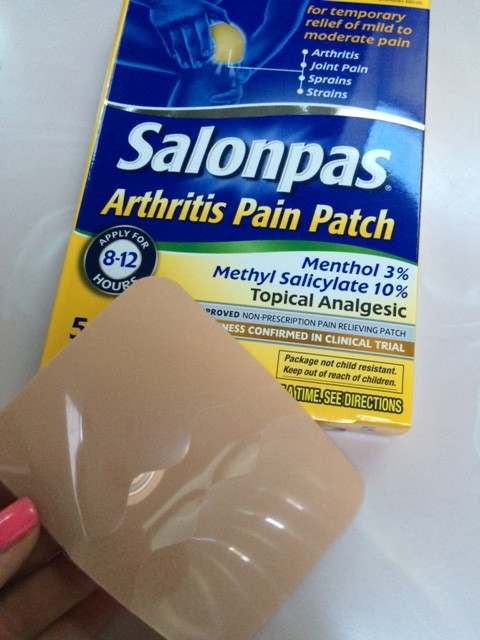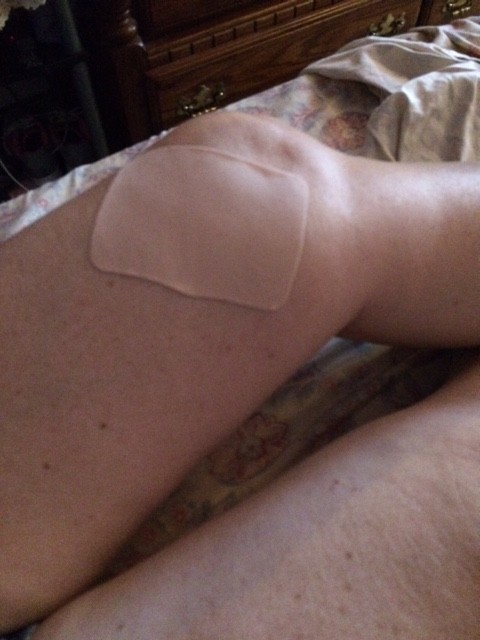 SO, a summary. If you are going to buy any Salonpas products, I would go for the deep relieving gel. It's a little stinky, but hey, get some rubber gloves, rub it in, and enjoy. And while the patches are less smelly, they were also generally ineffective for me, except the Gel patch, which worked better but hardly stayed on. I would skip the Jet Spray entirely…my mother and I both tried it and both felt NOTHING! Stay pain free, my friends!!! 😀
I received these products for free. This is an unbiased review.