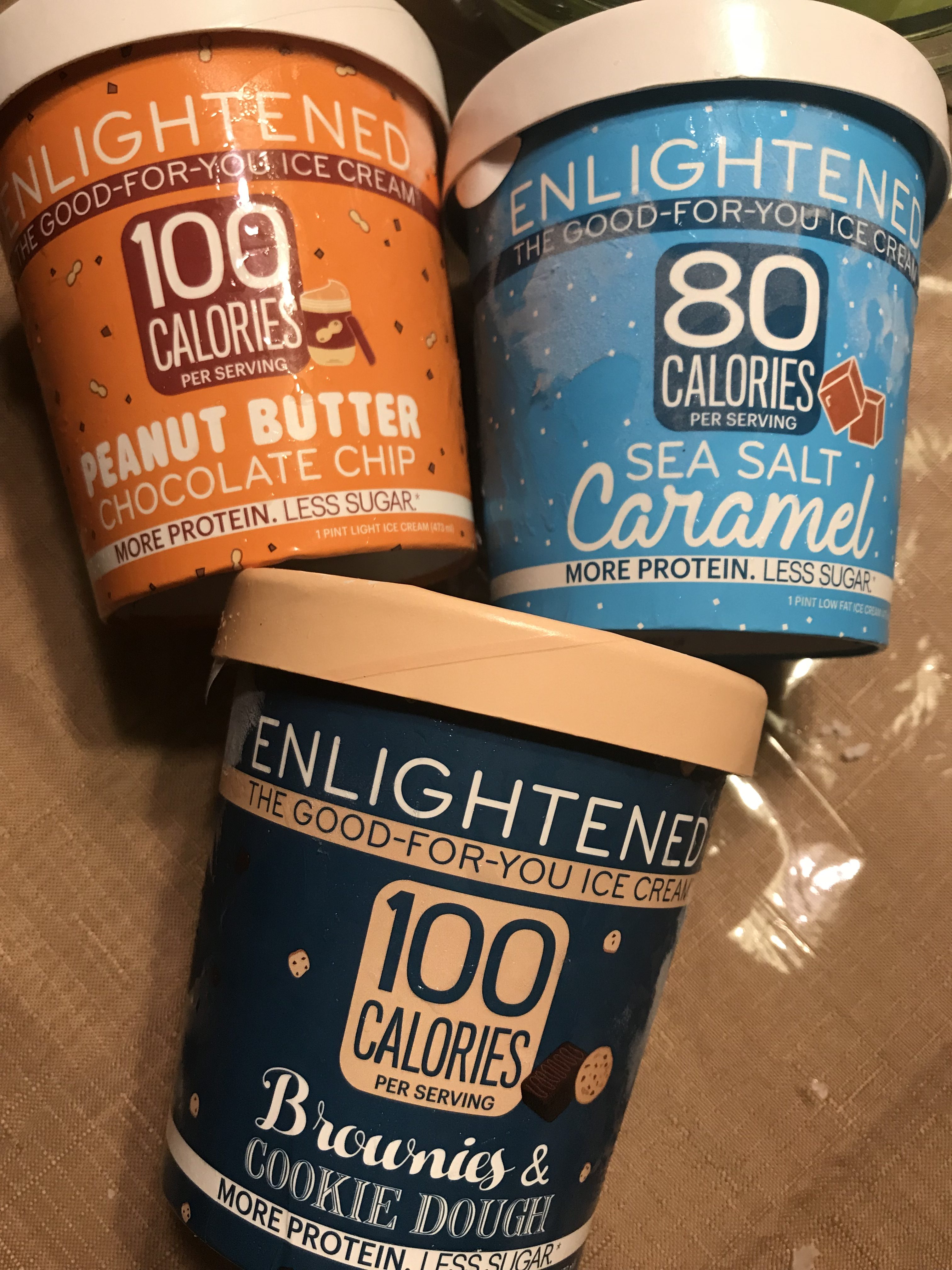 I've seen Enlightened Ice cream pop up on the freezer shelves…always curious. Could it taste good? Surely 80-100 calories seems absurd for a serving of ice cream that has flavor… Well…much to my pleasant surprise.
Enlightened has a wide variety of low calorie ice cream that has a decent amount of protein per serving and relatively low in sugar per serving. It is sweetened with erythritol, a sugar alcohol, and made with rBST free milk. For example, the Sea Salt Caramel has 80 calories a serving, 1.5 grams of fat, 5 grams of sugar and 7 grams of protein.  This is an absolute dream for ice cream lovers…because who can really eat JUST half a cup!?!?
NOW–> for these ice creams, you have to let them sit on the counter for 10 minutes or so. They are low in sugar, and sugar is often what keeps the ice cream soft from the freezer. So let it thaw a bit, then enjoy!
So naturally, I tried the PB CHIP first. Because…I am the peanut butter fiend 🙂
It was UNREAL. Creamy and sweet, with PLENTY of little chocolate chips that were sweet/semi sweet in flavor. Had a vanilla-peanut butter flavor, but honestly couldn't get over the fact it was low in sugar and how creamy it was.  I finished this pint in 2 days. An easy 5 star.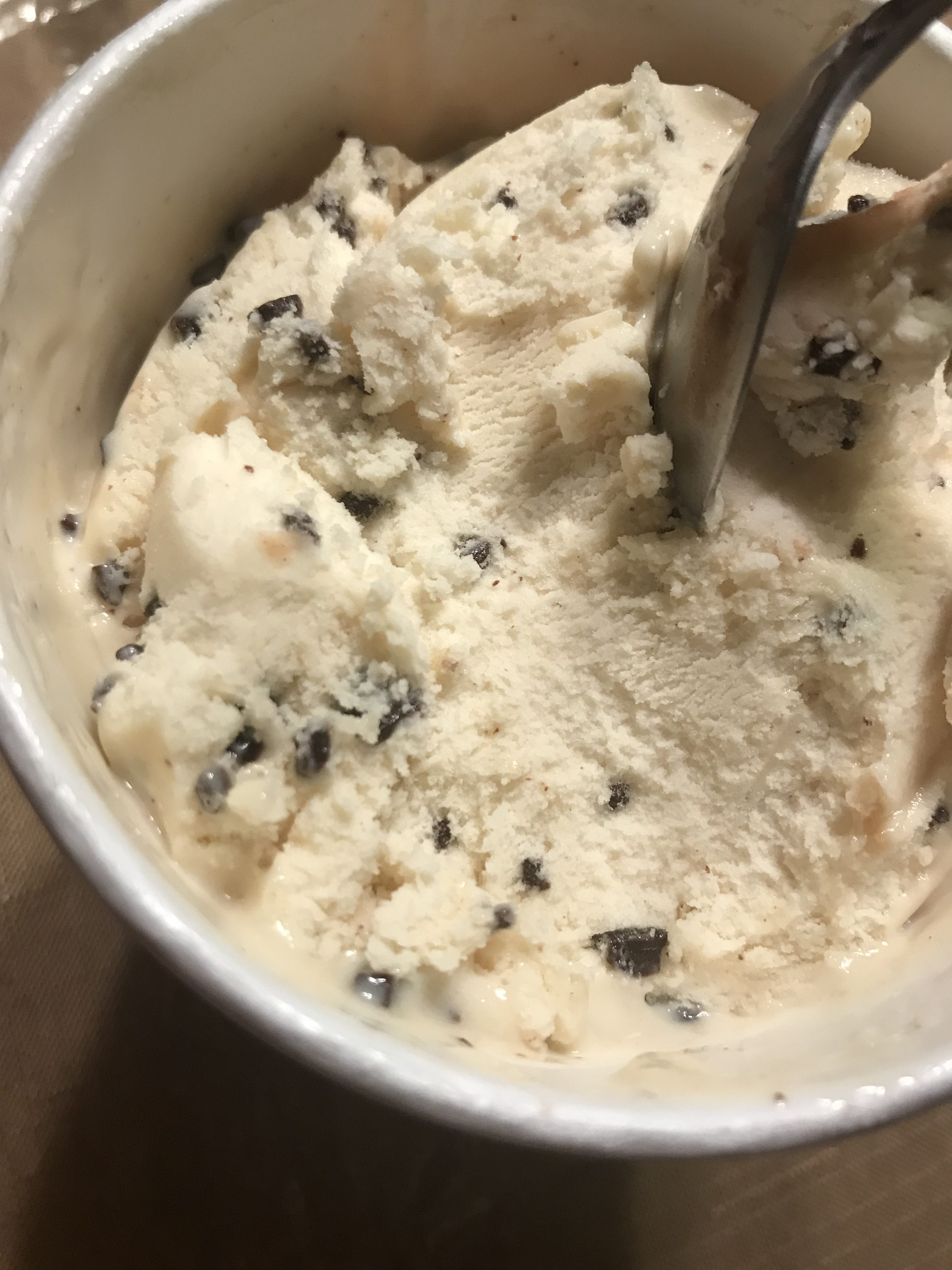 Next up, Brownies and Cookie Dough. This was a chocolate based ice cream with pieces of brownie and cookie dough bites scattered throughout. The ice cream itself was creamy, with a milk chocolate flavor. Sweet but not "sugary" sweet where it hurts your teeth. The cookie dough pieces were spot on- tasted as if it was straight from the bowl of homemade cookie dough, with the soft consistency you expect. The brownie bites were chewy, sweet and fudgy and just went perfectly with the ice cream. The best part is…there was plenty  of brownie and cookie dough bites in the ice cream. No scrimping here.
Honestly–> another 5 star from me.
Last up, Sea Salt Caramel. I was already excited to try this based on the fact I love the other two. The Ice cream itself is, again, nice and creamy, with a pretty strong caramel flavor. The caramel itself you can tell is not that sugary sweet caramel, but has more of a muted flavor (probably because it's not loaded with sugar…). However, it's still pretty good. There are large swirls of caramel in the ice cream, which are sweet, but has that sugar alcohol type flavor. If you've eaten enough sugar free/low sugar products, you know what I am talking about.
It was almost a bit too rich for me, too "sweet", and I wish it had some sort of saltier or crunchy component. But hey, to each his own. 4 star for me.
OVERALL, I am a fan! I can't wait to try the other flavors. I've seen them at Target, Stop n Shop, and other supermarkets. I will 100% buy the PB chip or Brownie & Cookie dough in the future. A definite try for those who love ice cream but may be watching their diet…or those who want an excuse to eat something sweet with some protein in it 🙂
Here's the nutritional facts for the PB Chip — however, most of the flavors are similar, but NOT exactly the same. Visit the website for exact nutritional information!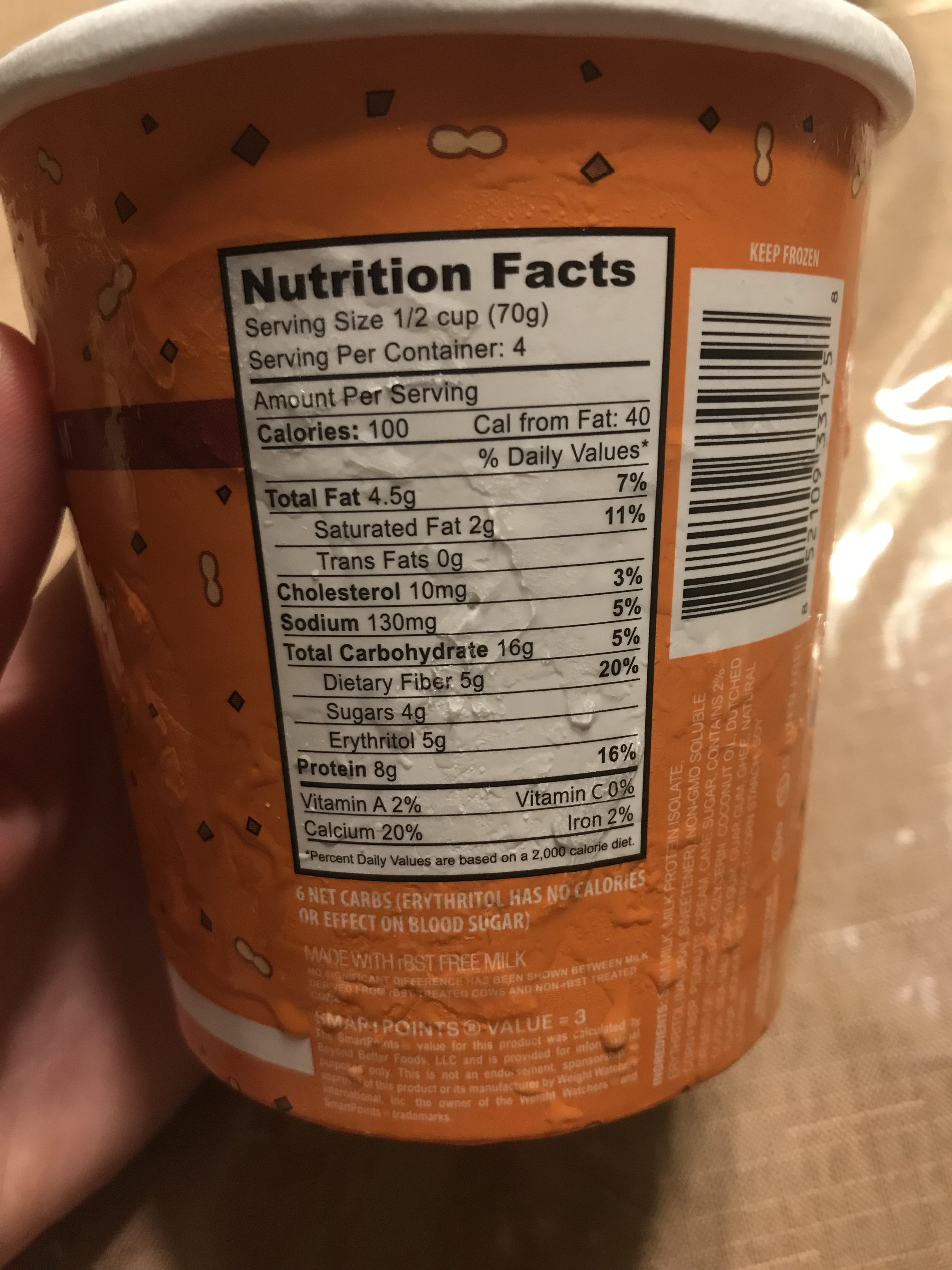 Follow me on IG for more reviews –> lisa_liftsx
Follow Enlightened on Facebook, and Twitter.
DISCLAIMER: I received these items to try for free from the company. This is an unbiased review.